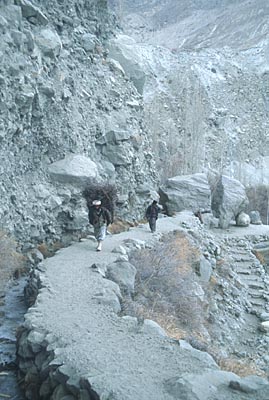 Karimabad is a small agricultural town in the Hunza region of Northern Pakistan. It raises world famous apricots and cherries. During the summer it is blooming and green. The valley is quite dry, and the farmers rely on irrigation channels cut out of the hillsides. All of the channels have been here for generations, and were mostly cut by hand. Along every channel is a trail, this makes the area fabulous for hiking. Anywhere you want to go is a great, smooth track to walk on! These guys were out collecting brush for firewood. He was quite proud to tell me that his other job is as a guard at the restored Baltit fort.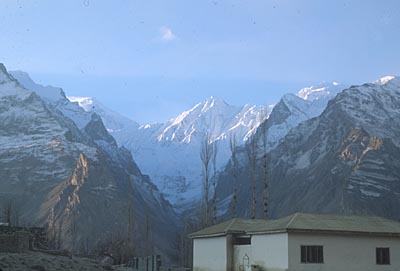 This is the view across the valley at Diran (7,279m, 23,950 ft). Usually this would have a large snow plume of the top. The winds must have been terrific to create such a plume.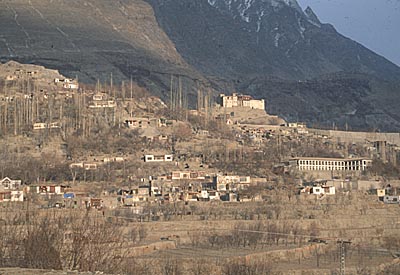 This is a view north of Karimabad. The large white building is the Baltit fort, the center of the Hunza kingdom for hundreds of years. Built in the 13th century, and restored in the 1990s, inside is now an impressive museum with photos and restored rooms and furnishings.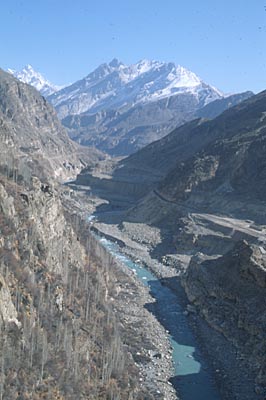 This is the view north of Karimabad toward the Khunjerab pass. You can see the Karakoram highway on the right and the relatively small Hunza River. The shoreline gives and idea what the spring runoff must be like.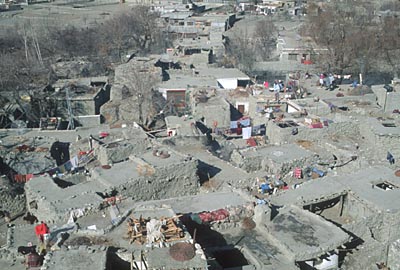 This is Altit town taken from the Altit fort. These two story stone and mud huts are representative of most of the houses in the region. The roof is where clothes are dried, and various household items are stored. The women congregate in the courtyards and do chores, or just gupchup.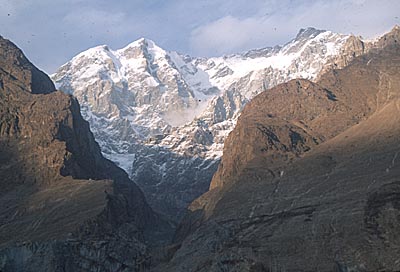 This is a view of Ultar I and II (about 7,400m, 24,300ft) which looms over town. On the grassy slopes on the left you can see a small speck on the horizontal ledge. The photo below was taken there. It is a monument to Queen Victoria.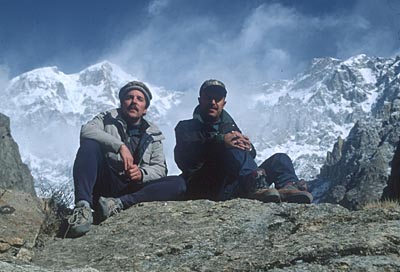 After a stiff 20 minute hike up to queen Victoria's monument, we are treated to a great view of the twin peaks. Despite appearances, the peak takes a full three days to summit. The peaks rises right in front of you, and the scale is very deceptive.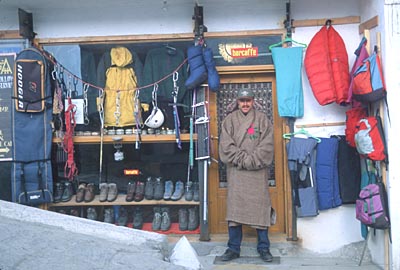 It was quite cold in Karimabad in January and Fazal wore his traditional Hunza thick felt coat. It has very long arms so that you can keep hands warm. He says the long sleeves are also useful for dancing! This is a tiny used-moutaineering-gear shop.