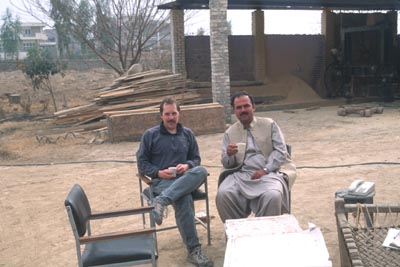 While wandering around Islamabad, I stopped to take photos of the local timber mill. They turn logs from the forest into rough cut timbers 10" x 10" and 9' long. These are then cut on-site at construction areas to the dimensions needed. This guy insisted that I stop and have tea with him. We spent an hour or so talking about the US policies and the various ups and downs of Pakistan's government. For a lumberjack, he was amazingly well informed about American history and politics.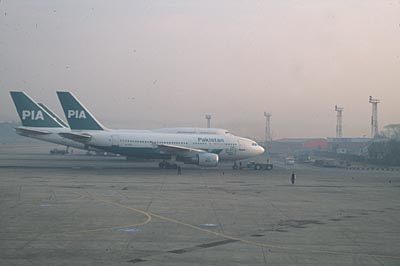 Despite what you may have heard, Pakistan International Airlines is a real airline, and actually flies clean and modern 747s and 737s. They do require a little more work to get your tickets and make the trip. The pilots are very good, flying complex mountain routes. The landings were much smoother on PIA than what we had on United.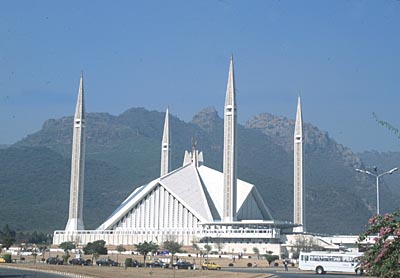 The Shah Faisal Mosque of Islamabad was a gift from Saudi Arabia. It is one of the largest in Asia, holding 100,000 worshippers at a time. It is absolutely amazing. The white stone and modern architecture make it a truly unique structure.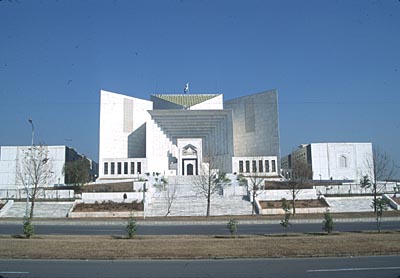 This is the Supreme Court building of Pakistan. Again the modern stone construction makes for a stunning counterpoint to the nearby Prime Ministers residence. Islamabad was constructed from scratch in the 1950s to be the capital of Pakistan. It's wide streets and new buildings make it completely different that anything you will see in the rest of Pakistan.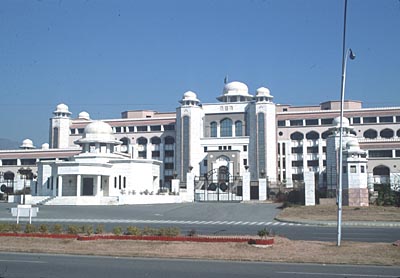 This is the Prime Ministers residence, the home for the ruler of Pakistan. It is currently unoccupied, as General Musharef prefers to live in his regular home. Perhaps this is a good indication of what kind of leader he is.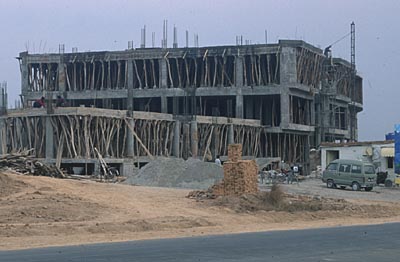 This is a multi story concrete building under construction. Note that they use wooden supports for all the construction forms. It is common to see donkey carts hauling around 50 foot bundles of rebar. The end hangs off the cart and drags along the road, making sparks and lines on the road.