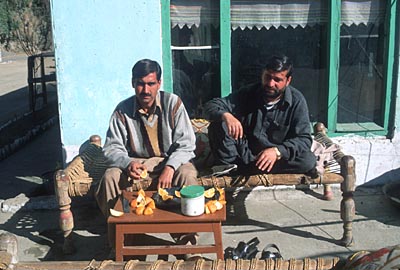 We stopped for gas on the road up to the Shangla pass. These two gentleman insisted that I sit with them and have a few orange slices. They spoke no English, but showed me how to put a pinch of salt on each slice. The oranges were very good that way.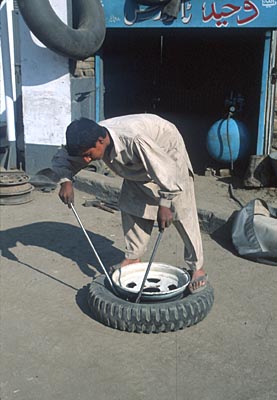 While cruising down the Grand Trunk Road, we picked up a huge piece of metal in our tire. After changing the tire, and driving on, we stopped at this small tire repair shop. It consisted of a few crow bars, lots of spare tubes and a compressor. While this young boy fixes the tire, dad and grandpa sat on their charpoy and supervised. The kid did a great job, and we were back on the road in about 15 minutes. Not even enough time to have a cup of tea.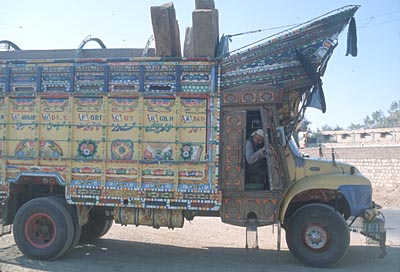 Instead of semis, in Pakistan the roads are filled with these lorries. The carry everything from logs to stones to vegetables. They are decorated with colorful symbols and words. Each truck is unique and truly a work of art.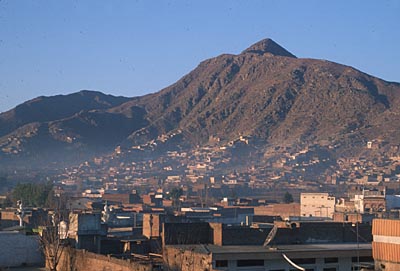 Mingora is the main town in the Swat valley. It is set at the foot of the mountains, and is a great stopping point on the way back from the North. The bazaars are huge, and crowded, very exciting. Our hotel was about the highest building in the town. It made for a great view in the evening.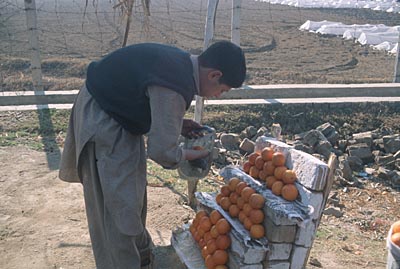 Most food can be purchased from these roadside vendors, without getting out of the car. I told Fazal and Air (the driver) that we call it drive-through. The oranges in Pakistan are much better than what we get in the US. They were very fresh and juicy even though it was winter.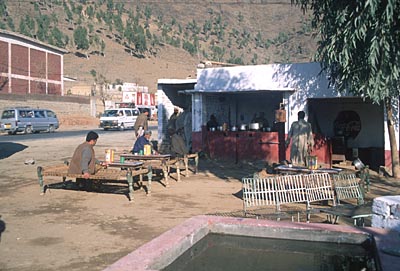 This is a typical roadside cafe. Everyone sits on charpoys and the food is served on the small tables. Charpoys are basically rope beds that double as couches or chairs. The menu usually consists of one or two items that are made in large pots, or on a grill. Every meal ends with tea and gupchupping.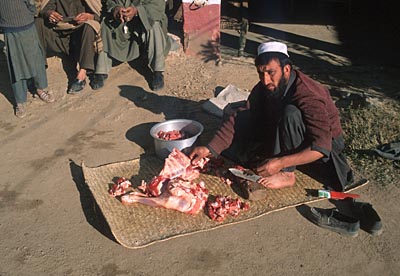 This guy works at the restaurant and is cutting the meat into bite size chunks. He whacks off a large chunk with a cleaver. Then he draws the meat across the knife. He holds the knife, blade up with his foot. It seems like a safe and efficient way to cut up the stew meat.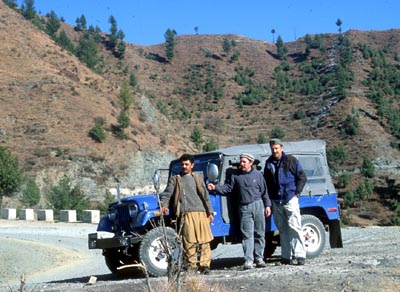 Air, Mark and Fazal on Shangla Pass. This is the connector road from Besham to Swat. The terrain looks just like home in Colorado. The road is not quite a four wheel drive road, but did require care while driving. Air did a great job and I never felt that we were going to careen off any cliffs.