The Author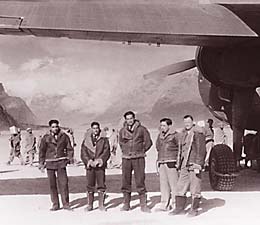 Wing Commander Lanky Ahmad in the middle at Skardu airfield early 1950s.
Wing Commander (retd) S. M. Ahmad, popularly known as 'Lanky,' joined the Indian Air Force in 1945 and retired from the PAF in 1970. As one of the pioneer of Pakistan Air Force, he has been in a position to see it grow into a mighty force.
He has been mentioned in dispatches for gallant/distinguished service in Kashmir during February 1949, with high appreciations of the President of Pakistan.
In 1951, he was appointed Captain of the PAF C-in-C aircraft and in that capacity also flew General Muhammad Ayub Khan, the C-in-C Army and other VIPs for many years. He was awarded "Green Endorsement" in his flying Log Book for having flown two thousand hours in Multi Engined Aircraft from 1951 to 1959, without any avoidable accident. He has also held some important Staff and Command appointments in the PAF. He was seconded to the Civil Aviation Department for nine years.
In 1955, he had the distinction of being selected the ADC to three Heads of States, President Bayar of Turkey, King Hussein of Jordan and Colonel Gamal Abdul Natsir of Egypt. He was also privileged to accompany the President of Egypt as his personal guest to Indonesia to attend the Bandung Conference. The same year General Ayub Khan the Defence Minister especially requisitioned his services as ADC when he went to Turkey to sign the Baghdad Pact.
His memoirs are full of interesting episodes, portraying his enviable and exciting Air Force life, which he is very proud of.